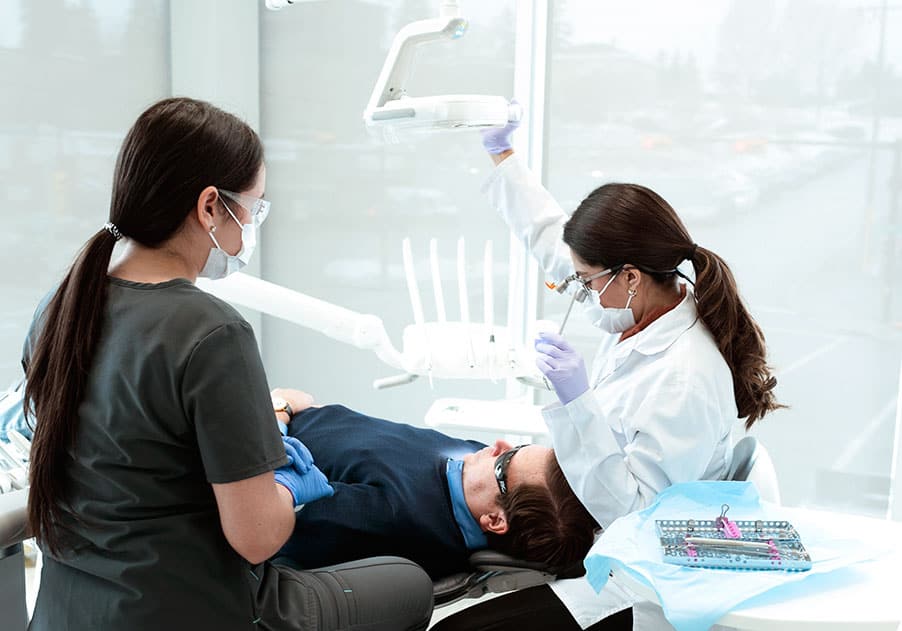 Our Services
Our dental practice in Calgary pursues conservative dentistry. All our treatments aim to preserve and save the patient's natural teeth. We recommend the most appropriate treatment and procedures to recover and maintain your best smile.
Guided Biofilm Therapy (GBT)
Guided Biofilm Therapy (GBT), is the new and better way to clean your teeth and remove biofilm. This treatment is evidenced based, proven to be less invasive, and more comfortable than the traditional way of cleaning teeth.
Dental biofilm is the main etiologic factor for caries, periodontal and peri-implant infections because the harmful bacteria in this biofilm are the cause of tooth decay, gum disease, and tooth loss.
Pathogenic bacteria originating in the oral cavity can also enter the systemic circulation and have been associated with multiple systemic diseases such as Alzheimer's, Cardiovascular disease, diabetes, Parkinson's, Rheumatoid Arthritis, and many more. It is critical that these bacteria be completely removed to ensure a healthy mouth and body.
Guided Biofilm Therapy is a scientifically proven systematic, predictable solution for dental biofilm management using state-of-the-art technologies. GBT uses new technology to remove your biofilm by using a combination of warm water, air, and soft cleaning powder and reduces the need for traditional hand tools and polishers.
GBT is less invasive and provides a more comfortable way of cleaning and keeping biofilm under control – for better oral and systemic health!
We dedicate ourselves to seeking continuous training and professional development that allows us to offer you all of the possible choices and alternatives to keep your oral health.
Meraki Dental is pleased to offer complete dental services including preventive and restorative dentistry, such as dental exams, cleanings, fillings, porcelain crowns, bridges and veneers, dental implants, Invisalign, whitening, night guards, and much more.
We understand that dental emergencies happen, and we will make sure to provide our patients with same-day emergency dental care appointments to discuss the best treatment options.
We are happy to provide more information about our services.
Airway Dysfunction (AD) and Sleep-Disordered Breathing (SDB)
In children, this condition occurs when there is inadequate or improper breathing in a growing child. It occurs both day and night but is usually more severe during sleep. If undiagnosed and untreated, it can lead to disturbances in physical and cognitive development.
What are some of the signs and symptoms ?
Sleep Issues:
Daytime sleepiness or hyperactivity
Snoring or heavy breathing during sleep
Difficulty in falling asleep or restless sleep
Frequent movements (disheveled bed sheets in the morning)
Sleepwalking or talking
Bedwetting
Grinding the teeth during sleep
Signs and symptoms:
Dark circles under the eyes
Chapped lips
An open mouth posture of the lower jaw
Frequent ear infections.
Improper growth and development of the jaws or a lack of space between the baby teeth or crowding of the baby or adult teeth
What are the possible causes of AD and SDB in children?
Oral:
Mouth breathing
Tongue or lip ties
Enlarged tonsils and adenoids
Nasal obstruction
Habits such as thumb sucking or prolonged pacifier use
Poor general or oral muscle tone
General:
Poor nutrition
Food or environmental allergies
What effects can AD and SDB have on children if left untreated?
Behavioral:
Depression, anxiety, Attention Deficit Hyperactivity Disorder (ADHD), behavioral issues
Delayed cognitive development, underperformance in school
Muscular-skeletal:
Underdevelopment of the upper and lower jaws
Improper eruption of the permanent teeth
Temporomandibular problems (TMJ)
How are AD and SDB diagnosed in a child?
Various screening tools are involved and combined to evaluate your child:
A sleep questionnaire, sleep study, or home sleep study
Airway assessment
High-resolution pulse-oximetry (HRPO)
How are AD and SDB managed?
Non-surgical:
Proper sleep hygiene
Avoid allergens including pets
Nasal breathing therapy
Myofunctional therapy
Guided growth and development appliance therapy
Orthodontic treatment
Surgical:
Correction of a tongue or lip tie
Removal of the tonsils and adenoids
Snoring in Children
Occasional snoring in children is normal. If snoring is persistent or signs of sleep apnea exist, your child may be at higher risk for growth and development problems. Snoring may result from temporary airway obstruction experienced with a common cold, sinus infections, allergies, or enlarged tonsils. Sleep apnea risk factors are overgrown/enlarged tonsils and adenoids, obesity, abnormal facial development, and neuromuscular disorder.
Occasional snoring is common when associated with illness or allergies, however frequent snoring is NOT normal in a child's development. Untreated sleep apnea is dangerous. It can lead to learning difficulties, behavioral issues and affect growth and development. If you are concerned that your child may have abnormal snoring or sleep apnea, your child's physician should determine if further evaluation or treatment is necessary.
Soul, Creativity and Love into your Smile.
Contact Our Dentists in Calgary Today!
MACLEOD PROFESSIONAL CENTRE
220 - 3916 Macleod Trail SE.
Calgary AB - T2G 2R5
Phone: 403- 457- 7757
E-mail: [email protected]